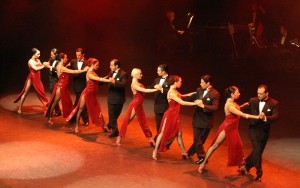 The most renowned Tango orchestra, Hyperion Ensemble, and Gustavo Russo, the well-known dancer, are back again, presenting the show Tango Seduccion, which has delighted and moved audiences in France, Austria, Holland, Russia, Poland, Greece,
Lithuania, Korea, Israel, Arab Emirates, Brazil, Chile, Turkey and Taiwan for the last 10 years.
His show has been acclaimmed by the public at many of the most important international stages, such as the Olympia Theatre in Paris, the Opera
House in Jerusalem, the Kremlin Theatre in Moscow, the Stad Halle in Vienna, the RAI Theatre in Amsterdam and the Chungmu Art Hall in Seoul and his work has been praised by the specialized press, thanks to his incomparable and unique choreographic talent.
Tango Seduccion, with its powerful energy and virtuosity, draws the spectator into the heat of the passion born of this exotic and
highly erotic dance which Gustavo Russo moulds and manipulates in a way which only he can.
The extraordinary cast of artists on stage, which includes 15 dancers, 5 musicians and a singer, bring the story of this show
to life. It is a tale of great descriptive beauty which portrays the intimate dialogue between the artist and the dance, his inspiration,
the road he travels in search of beauty and the stories behind its creation.
TANGO SEDUCCION
Synopsis of the show .
From the first scene until the final act, Tango Seduccion offers an infinite number of renewed choreographic images, based on
the Tango dance's many original and traditional forms, in their purest expression. Gustavo Russo elevates these to their highest
expression and presents them on stage, where they evolve into an avant-garde and transgressing creation, expressed in the
language of this dance form In the first part of the show, seven couples, all dancers, relive the magic of Tango with extraordinary virtuosity and style,
recreating themselves through a number of group performances that mutate from symmetrical or asymmetrical numbers into
solos that walk the thin line between technique and artistic beauty.
The audience communes with and relives the true spirit of Tango and from here on, in the second part of the show, the author
transports the public to the very heart of the artist and the experiences that are the highlights of his work.
Moved by certain dramatic events that occur in the world around him, the choreographer tells us stories presented by various
characters that become interwoven through the dance steps of Tango, at times recalling the Greek Myth.
TANGO SEDUCCION is a journey through the universe of Gustavo Russo, a communion with art, his quests and
transformations, all seen from his most inner perspective.
Female Dancers
Samantha García, Esther Garabali, Vidala Barboza, Gisela Galeassi,
Daniela Inglese, Louise Malucelli, Sabrina Morando.
Male Dancers
Gustavo Russo, Ariel Pérez, Omar Cáceres,
Martín Epherra, Gaspar Godoy, Marcos Roberts, Darío Farías.
Musicians
Nicolas Maceratesi bandoneon, Roberto Piga violin, Guido Bottarp piano, Alessio Menegolli double bass, Bruno Fiorentini flute and guitar – Martin Troncozo singer
Musical Director Bruno Fiorentini
Idea, Choreography and General Direction Gustavo Russo
Lighting technician Anibal Corrado
Sound technician Guillermo Maldonado
Stage manager Anibal Rea
Tour Management of Tango Seducción
Ilenia Carli