The Association Gruppo Strumentale Hyperion has been founded on 10th june 1991 with notarial deed at the Calabrese De Feo office in La Spezia.
Here are the present members of the admin body (assembly 7.5.2021):
Bruno Fiorentini – President
Ernesto Di Marino – Vice-president
Davide D'Ambrosio – Councilior
Grandi Danilo – Councilior
Ilenia Carli – Councilior
Bookeeping at the Franco Bucchioni Studio, La Spezia
here is the last approved balance sheet (year 2021 – assembly of 11.4.22)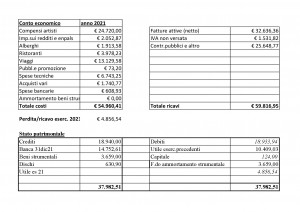 L'Associazione Gruppo Strumentale Hyperion ha ricevuto nell'anno 2021 i seguenti contributi pubblici:
Contributi da Enti pubblici – Esercizio 2021
Comune Calice al Cornoviglio €400,00
Comune Brugnato € 2.630,00
Regione Liguria € 14.000
Comune Riomaggiore € 1.600,00
Comune Santo Stefano di Magra € 2.800,00
Comune Follo € 1.600,00
Inscription
A member of the Association Gruppo Strumentale Hyperion takes part to the life of the Institution and to its activities, as concerts etc.; has right to have discounts on the price of the tickets of the concerts, receives gratis all the Cds released by the Ensemble.
The inscription fee is € 10,00 a year.
Present members of the Association
Alfonseca Koranjali*
Alinghieri Roberto
Barbanente Carlo Emanuele
Bartolommeoni Stefano
Bellia Ilaria
Bembi Stefano*
Bertoni Raffaella
Bottaro Guido
Brandi Francesca*
Carli Ilenia
Chiaverini Sergio*
Cipolla Alessandro*
Colombini Andrea*
Costantini Giampaolo*
Cozzani Sergio
D'Ambrosio Davide
Di Marino Ernesto
Fiorentini Leonella
Foschi Lara*
Gaetano Alessandro *
Galizia Marco*
Giannarelli Valerio
Giannoccoli Silvia
Giudice Stefano
Godoy Hernan
Grandi Danilo
Guevara Marcela
Gurreri Massimo
Hilliges Patricia*
Lagomarsini Claudio*
Lamartina Michele
Lunardini Daniele
Magnasco Alessandro *
Marino Gabriella*
Menegolli Alessio
Mezzani Stefano
Montanelli Marco *
Panero Matteo*
Pansera Francesca
Pardini Chiara
Peloni Ruben
Peri Caterina *
Piga Roberto
Pupillo Carmen
Rossi Manuela
Troncozo Martin
Vaccarone Alessandra *
Vlachou Aggeliki Anna
Zambelli Gino
Zolesi Gianluca
(the members marked with * are not in order with the payment of the inscription fee for 2018, and are thence lapsed if they don't straighten out)